VentDefense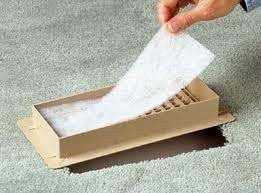 VentDefense
$15.95
VentDefense by AllergyZone is an allergy filter for vents that enables you to maintain superior control over your home's indoor environment.  Over time, dust can accumulate inside the duct work of your home's heating, ventilating and air conditioning (HVAC) system.  As the system cycles on/off, surges of air may dislodge the built-up dirt, which can be distributed inside your home through the air supply vents. 
VentDefense creates a final barrier of protection against unhealthy airborne particulates. To install, simply cut to fit using household scissors and place it inside the air supply vent, or attach it to the outside using the supplied Velcro. For best results, use VentDefense in rooms where the majority of your time is spent (bedroom, living room). To maintain adequate air flow, do not use VentDefense in every room.
Serves as a final barrier of defense against built-up dust and debris entering the home through air supply vents.

Easy to install, cut with household scissors for a custom fit.

Installs inside the vent, or attach to the outside of the vent using the supplied Velcro.

Change vent filter media every 4-6 weeks.